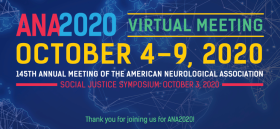 ANA-NINDS Career Development Symposium
NINDS was held virtually on October 2, 2020. We are curious to learn more about your experience. Once you complete the questions in the evaluation, you will be able to download a certificate for your records.
Target Audience
Neurologists and neurological researchers 
This activity is not accredited for CME.